A Lesson In Lavender: From cookies to lemonade, Stuart woman highlights flower's impact
CRITZ - Debbie Brown's love of lavender started when someone gave her the gift of lavender lotion.
She was so enchanted by the aroma and the comforting feel of the lavender that she ended up dedicating herself to growing it. With her husband, Ronald, she opened Joy Lavender Farm in Stuart three years ago.
Friday at the Reynolds Homestead's Sustainability Workshop, Brown gave a presentation on lavender. She served the audience cookies and lemonade, both made with the fragrant purple blossoms.
So wonderful was the aroma of the plant that "I felt euphoric driving home with my first plants," she said. "Lavender is uplifting. Just breathing in the smell, that confirmed it."
It takes lavender plants three years to fully mature, so it's just now that her plants are coming into their own, she said. Eventually, she hopes to have 300 plants at her farm, but she's not there yet.
The couple grow several kinds of lavender. Phenomenal and Provence, which has a greyish-purple color and a long stem, have performed the best, she said. For wreath-making, Provence lavender holds up the best.
All lavenders are perennials and live all year long. However, for winter attractiveness, "Phenomenal is truly phenomenal," she said. Throughout the cold seasons "it's still real pretty and green." Most other varieties turn greyish in spring.
Angustifolia, also called True Lavender or English Lavender, "is the best edible lavender." She said that she has planted the Munstead, Grosso and Hidcote varieties of Angustifolia lavender.
Lavender has been used for centuries in aromatherapy to calm people and help them sleep, Brown said. It treats hypertension and depression, and helps with ADHD, she added.
The scent of lavender "is good on a dreary day. I'm not saying you're going to be giggling all the time, but sometimes you need that little lift" that lavender can provide, she said.
Though this hasn't been proven, it may have had a special role in the Bible -- there are theories that it was lavender oil Mary used to anoint the feet of Jesus. The Bible says that she anointed his feet with Nard, an expensive perfume, but no one knows what Nard is, Brown said. It is known that lavender was called "Nard" because Nard was a city known for how much lavender grew there, so it's likely that the Nard was lavender.
Roman soldiers packed wounds with lavender buds, Brown said, because "it helps with pain." In earlier times, women in childbirth were surrounded with lavender. Brown's husband uses lavender lotion to help ease his pain from arthritis.
Tired feet can be soaked in lavender oil, which also is an antiseptic for bee stings, insect bites, burns and cuts, she said. It helps lessen rashes.
+2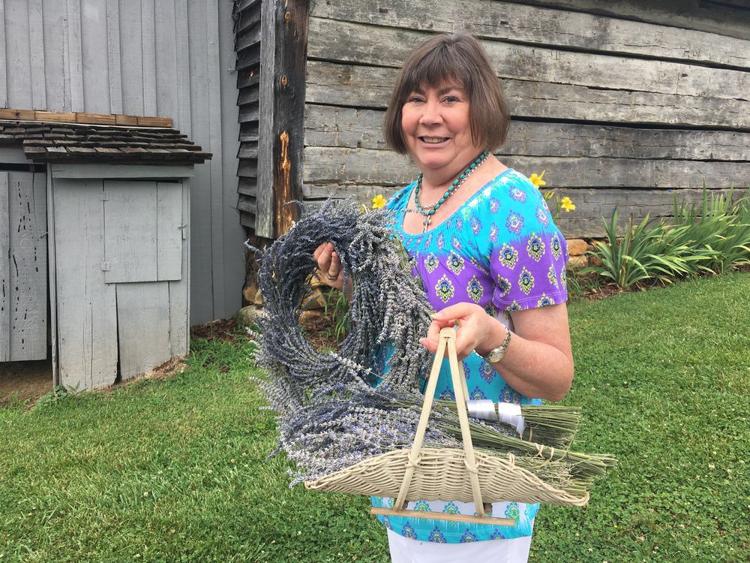 In cooking
Lavender makes a good flavor in cooking, Brown said. "Use a little sparingly, as a background flavor, not to steal the show. A little goes a long way."
Brown shared lavender lemonade and lavender shortbread cookies with the audience. Each attendee took one cookie when all were invited to during her talk -- but afterward, the plate was emptied, as people gathered around her table to get a closer look at the lavender crafts she had brought with her.
To add a delicate lavender taste to desserts, put some lavender sprigs into a canister of sugar for a few weeks, she said. Remove it before using the sugar to bake cookies or cake.
A teaspoon of lavender flowers can be added to tea leaves or coffee grinds while brewing either tea or coffee.
Lavender also can be used in savory cooking, she said, especially as a replacement for rosemary in recipes. Meat receives a good flavor when lavender sprigs are placed over the coals while meat is being grilled.
When cooking with lavender, use a third of the amount of dried lavender as you would fresh, because its potency increases after it's dried.
Lavender essential oil is popular, but is costly. Infused oil is far more economical and can take the place of lavender oil, she said. To make it, place dried or fresh lavender flowers in a jar. Cover completely with base oil (sweet almond or olive). Place jar in brown paper bag and let set in a warm place for two weeks. Strain well using cheesecloth. A few drops of Vitamin E can be added to help preservation. Store in a dark bottle.
Actual essential oil is distilled oil from the plant. To make it, "many, many flowers are run through a distiller," Brown said.
In crafts, lavender can be sewn into sachets, woven into wreaths or grouped into potpourri.
A lavender wand is about 7 or 8 inches tall. The bottom half is a gathering of stems, and the top half is those stems woven together with ribbon. The flowers aren't seen; each stem is folded over the flowers downward. To make one, gather all of the flower ends of fresh stems, and one by one bend a stem all the way down over the group of flowers, weaving a ribbon in and out of the stems to hold them.
+2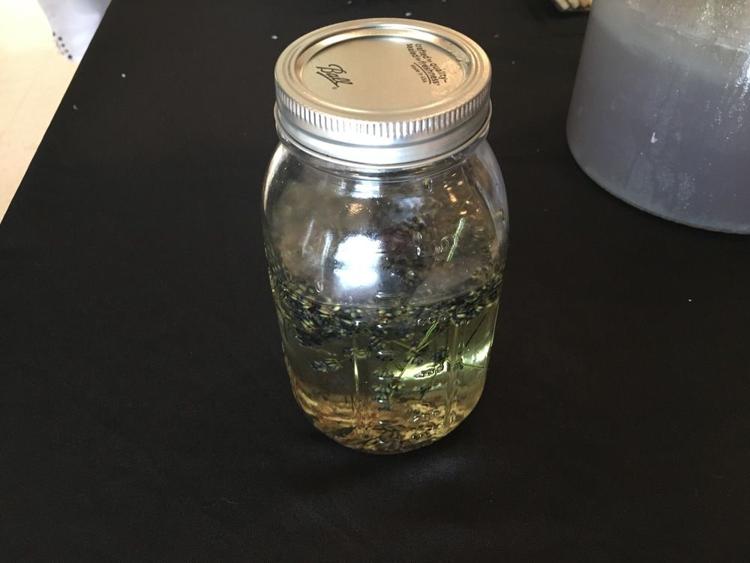 Growing lavender
Lavender is best planted in September or early October, Brown said.
To create new plants, take a 2- to 3-inch cutting off an existing plant. Strip leaves off the bottom part of the stem, and leave its leaves on the top inch of stem. Dip the bottom end in Rootone, then set it in sand or seed starter.
Lavender needs at least eight hours of sunshine, and "don't even think about" planting it in partial shade. It would not do well, she said.
It needs good drainage and should be planted in rocky soil with a pH level of 7.
That means adding lime and sand to the flower bed. Because it can't take wet roots, it could be planted on slopes and hills, so water can drain off.
Following advice from a local extension agent, she prepared her lavender beds by adding equal parts sand or rocky material and compost to the soil of the planting bed.
Lavender's flower stalks can be harvested twice a year, Brown said.
"When it's ready, it's ready, and you can't let it slide," she said. It's best to pick the flower sprigs before all of the blossoms open, or the petals will fall. The Munstead variety is easy to harvest with a sickle, but with the other varieties, groups of stems must be hand-cut after sorting through.
As long as its soil and dryness requirements are met, lavender is a hardy plant. It doesn't need any pesticides. In fact, she said, it repels mosquitoes, while attracting bees and butterflies.
+2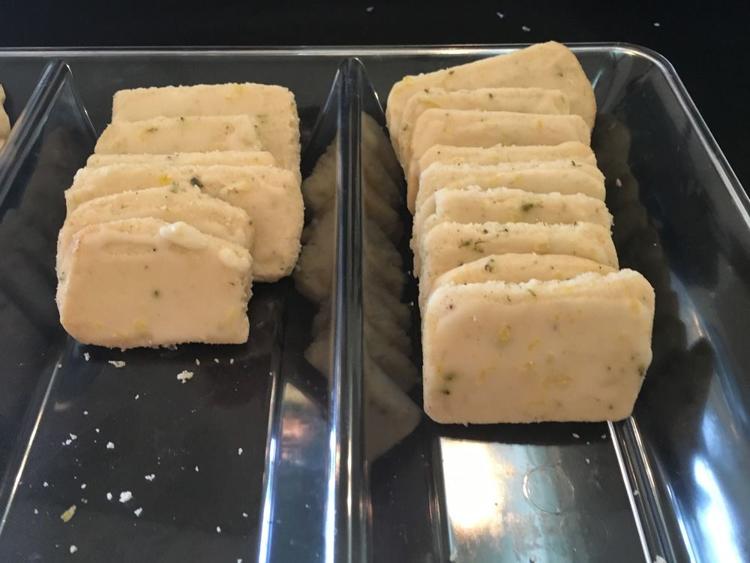 Lavender Shortbread Cookies
1 cup butter, at room temperature
1/2 cup sugar 1 tsp. vanilla
2 tsp. dried lavender buds
2 cups flower
1/2 tsp. salt
Beat butter until light and fluffy and almost white in color. Add sugar, vanilla and lavender. Beat for 2 minutes more.
Sift flour and salt together and add to butter mixture. Mix until dough is sticky.
Place dough on a sheet of wax paper and shape into a log. Chill for at least 2 hours.
Preheat oven to 325 degrees. Line a baking sheet with parchment paper. Slice dough into 1/4-inch slices. Bake for 17 to 18 minutes, until firm.
Let cool completely, then apply a thin coating of lemon glaze.
Lemon glaze
2 cups confectioner's sugar
2 TBS lemon zest
1/3 cup fresh lemon juice
Mix ingredients until smooth. Think with water if too thick.
Lavender lemonade
6 to 7 cups water
1 to 1 1/2 cups sugar
1 1/4 to 1 1/2 cups fresh squeezed lemon juice (5 or 6 lemons)
2 TBS dried lavender flowers
Bring 2 cups water and sugar to a boil. Remove from heat; add lavender. Cover and let steep for 30 minutes.
Strain and discard lavender. Add lemon juice and remaining water. Serve over ice.